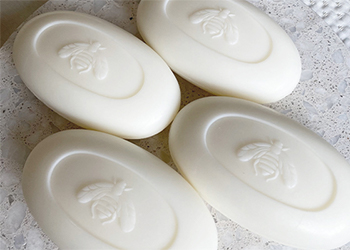 Introducing 'Fleur de Coton'
20 years ago, an idea was born. 2 years ago, I found an avenue to turn this idea into a reality. Today, with great pleasure, I am proud to present Scent of Provence's very first soap, Fleur de Coton.
Produced by the finest soap makers in France's southern region of Provence, Fleur de Coton has been created to evoke the sweetest and earliest memories I have of fragrances. Memories of fresh laundry, soft floral perfume and white sheets drying in the summer sun. The perfumer describes a head note that leads with geranium, followed by heart notes of rose, violet and lily of the valley. The base notes linger with white musk and tonka bean. Combined with Essence de Coton, the overall fragrance is subtle, nostalgic, and pure. Measuring 150g, the base of the soap is Organic Shea Butter, famous for its ability to nourish and moisturise the skin. Fleur de Coton's ingredients are ethically sourced, and all packaging options are without plastic. Made in keeping with age old traditions, the soap is quad-milled to ensure a luxurious and smooth lather.